3 Steps To Kick A Social Media Addiction [Without Going Cold Turkey]
Feel like a social media addiction is creeping up on you and taking over your life? It's distracting you from things you really need and want in life? YUP! Been there! Done that! 
I knew I had to find an answer. My life was being wasted and making me less happy. I neede to find a way to break this social media addiction and spend time on other things that were important to me.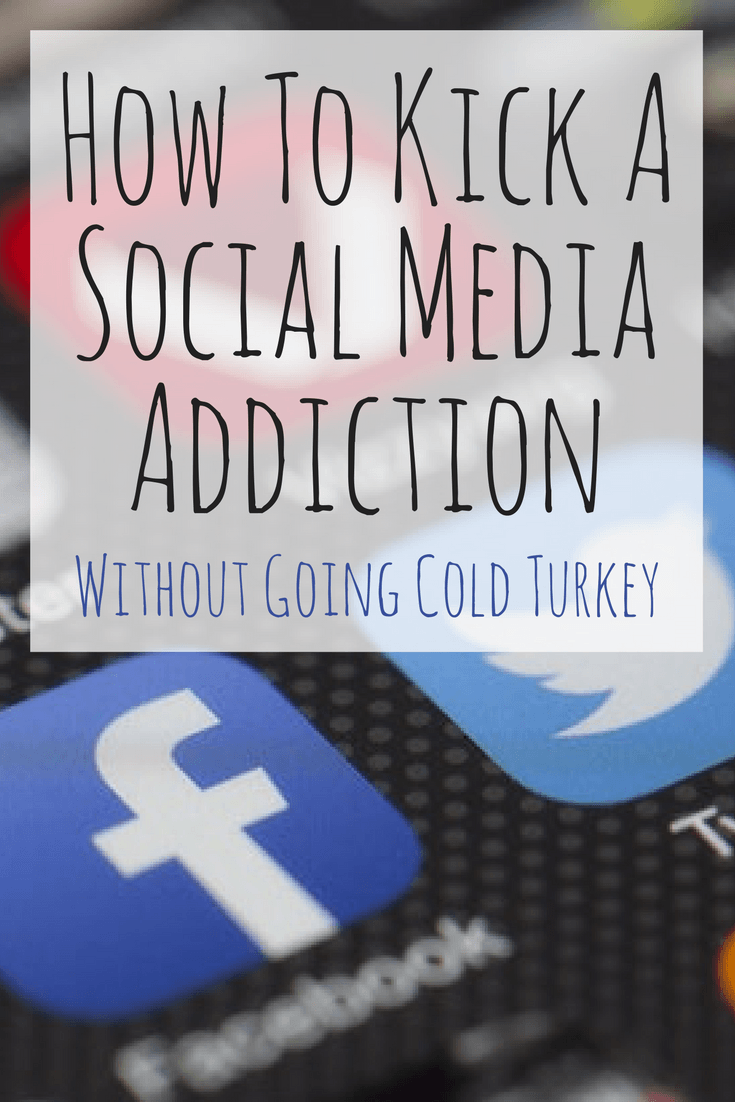 Back in the last few days of December 2016 I was thinking about some New Year resolutions that I might want to make. I had a few days to decide what they were going to be and prepare for them.
One of the things I wanted to change was the amount of time I spent on Facebook.
I knew in the past that I often fail at goals like this. I've tried for years to get into a habit of working out and have failed miserably over and over. (This is something I will master and will write about soon as I do.)
I decided to start on December 28th instead of waiting for January 1st. Maybe that was differentiating factor. Who knows?
I couldn't remove Facebook altogether as I did use Messenger for some communications and for my business. Hence, I couldn't go cold turkey….and plus I knew that I would most likely fail if I tried.
Here are the 3 steps I followed 4 days before New Years to kick my social media addiction…
Step #1: Remove The Facebook Newsfeed
The first thing I did was install News Feed Eradicator for Facebook.
This Chrome extension removes your newsfeed and replaces it with a quote. The quotes weren't anything special, but it kept me from being distracted anytime I went to Facebook. From that point forward, I could check my messages and even post on my wall if I wanted, BUT I couldn't see anyone else's unless I specifically went to their page. And honestly, I wasn't that concerned about anyone else Facebook page that I even did that.
This was a game changer for me.
I kept it enabled for 45 days. My goal was 60 days but by day 45 I knew my addiction to the news feed was broken. I had very little desire to turn it back on. That's when I knew it worked for me.
Step #2: Move Social Media Icons [Out Of Sight, Out Of Mind]
Normally I have Facebook, Twitter, Instagram, and Messenger right on the home page of my iPhone. I moved them all into their own folder and moved that folder to the very last page of my iPhone screen. I also turned off notifications for all of them.
Removing them all together would have been cold turkey for me and again, I thought I'd fail if I went that route. So I decided to do something less drastic. Moving them out of my line of sight and turning off the beeps helped tremendously.
Here's a great video talking more a "Notifications" strategy for kicking the social media addiction.
Step #3: Leave Your Phone In The Kitchen Overnight
One of my favourite times to indulge in social media is immediately upon waking and right before going to sleep. It became a really strong habit. This is probably the hardest part for me and I still don't do it every night but I do it enough that I'm able to keep my habits at bay. I've read in numerous places that if you want to get a good night sleep and avoid trouble falling asleep, one should not use electronics up to 1 hour before bedtime.
If you use your phone as an alarm, get a real alarm clock!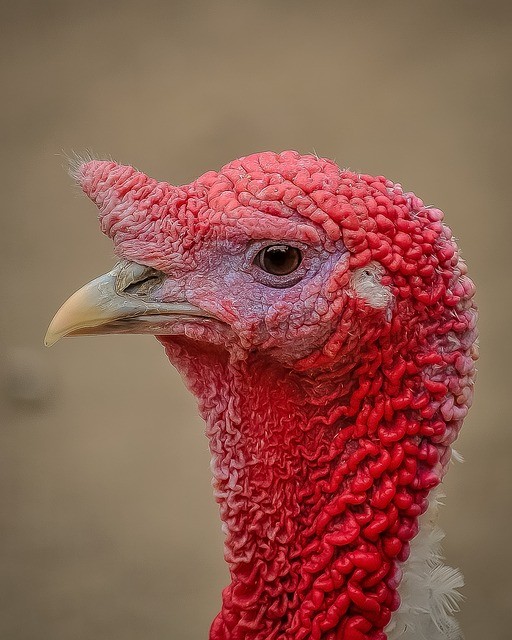 Other Tools For Kicking The Social Media Addiction – Some Are Literally "Cold Turkey"
Here are some other tools I found that can also help. I haven't used them personally but they look good. 🙂
Freedom blocks apps and websites and works on your phone, computer, laptop, and tablet. Create unlimited lists of websites and apps that distract you. Mix and match them during the day.
OS: Windows & Mac, Price: From $6.99/mo
Moment is an iOS app that automatically tracks how much you use your iPhone and iPad each day. If you're using your phone too much, you can set daily limits on yourself and be notified when you go over. You can even force yourself off your device when you're over your limit.
OS: iOS, Price: Free
A Chrome extension that lets you block those distracting websites that keep you from making progress with your work. You can choose which sites to block, whether to block them partially or completely, when you want the blocking to start and how long you want it to last.
Browser: Chrome, Price: Free
If you DO want to go cold turkey...here's one for ya…
Cold Turkey helps you improve your productivity by blocking websites, preventing you from becoming distracted and forcing you to concentrate on your work. The more advanced version also lets you block applications, time your breaks, create exceptions, and more.
OS: Windows & Mac, Price: Basic – Free; Pro – One-time price of $19
AdBlock Plus helps you reclaim 30-40% of your attention with every article you read. Some websites are now recognizing these ad blockers and forcing you to turn them on in order to read an article.
Browser: Chrome, Price: Free
Apps That Make Us Happy vs. Apps That Make Us Unhappy
Time WellSpent did a survey of their users and found the apps that made us most happy and those that made us the most unhappy. Interesting stuff. How does this compare to your life, your apps, your time?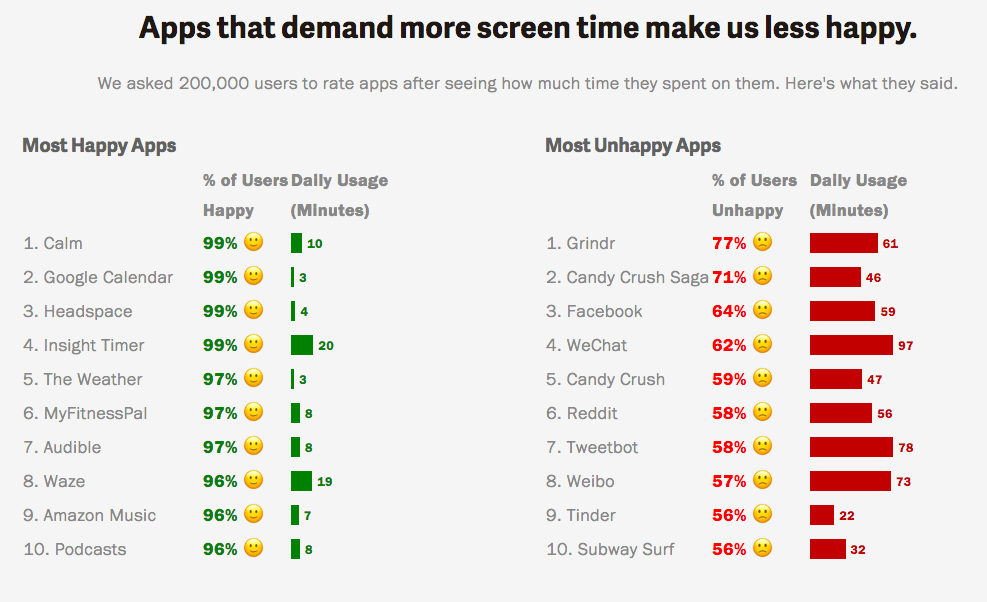 There you go. It worked for me and if it can do that (to someone who struggles bigly with changing habits) I know it can work for you too!
Tracy
SUBSCRIBE FOR MORE WAYS TO: MAKE MONEY, SAVE MONEY, TRAVEL MORE AND BE HEALTHIER
Enter your name and email address below. I promise - no spam will ever come from me. You can unsubscribe anytime!