How We Travelled To Vancouver For 75% Less
Back in 2016 for my daughters 10th birthday, I promised her a trip to anywhere in the world. Wasn't quite sure how I would make that happen but I'm not one to worry much about the "how"…I just like setting the "what" into action. I know the "how" will always get done.
I knew I had enough points on my credit card to travel for 2 people on a return ticket just about anywhere in the world, so I knew my biggest expense would be covered.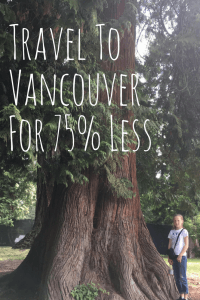 She's not one for knowing her geography outside of Canada. I mean she was only 10 at the time.
Eighteen months go by and we still hadn't taken the trip yet.
My girlfriend had planned a 2 month stay out to Vancouver and surrounding area. She was from there I suspected at the time staying with family. Turns out she had rented a house for $500 a week on Hornby Island, so I thought that maybe it would be a good idea to make that our trip. British Colombia is beautiful and we could possibly stay with her for at least a couple days.
So I booked the flights and we were off and planning.
My goal was to use as many points as possible…for as many things as possibe.
I have points through Scotiabank Rewards which I really like because I have 3 separate cards all linked to the same rewards account…one of them a business Visa.
For one of the cards (an American Express), I get 4 points for every dollar I spend. Another card I get 2 points for every dollar and the last card is 1 point for each dollar. These add up fast. As you can guess for the past few years I used the Amex as much as possible to get those points up faster.
Booking the flights to Vancouver…
I live in Toronto and usually, people here fly out of our main international airport (YYZ). After looking around I saw some tickets that were flying out of Hamilton International Airport. They were much cheaper so I booked them.
TIP: Always check airports outside or near your city as often they are cheaper.
They cost $320 each and I used points to reimburse myself on the credit card.
Local travel while in Vancouver…
We were planning on spending 4 days in the city and the other 4 days on the island.
(BTW…when I travel I don't like to have too many plans. I like doing things somewhat spontaneously so my plans are always very loose. I find it more exciting and flexible that way.)
For the 4 days in the city, I purchased local bus passes every day. They are called Compass pass and you can get them at most gas stations and grocery stores. Adults are $10 and kids under 12 are $7.
We used Google maps to get around on the buses and trains. This did end up using a lot of my cellular data on my plan, so 1/2 way through the trip I ended up buying a GPS which we used afterwards – although the GPS doesn't work with local transit.
Travel on the island would have been more difficult especially since we were headed to Hornby Island and you have to take 2 ferries to get there. So we decided to rent a car before leaving Vancouver.
The cost of the ferries was probably the most expensive thing we had to pay for.
From Vancouver to the island was about $80 each way and then from Vancouver Island to Hornby was about $35 each way.
Accommodations while in Vancouver…
Airbnb
For the first 4 days of our trip, we stayed at an Airbnb in Surrey. It was $42/night. We stayed with El and Charm. They were great hosts. Very friendly and accommodating. El even picked us up from the bus stop a couple times to save us time. If you want to stay with them here's their link. I highly recommend them as hosts. They are a 10-minute walk to the bus stop but we didn't mind. We were on vacation and not in a rush to get anywhere.
With Friends
One of the reasons we decide to go to Vancouver was because my girlfriend was headed there for 2 months. She grew up on Hornby Island and was going back to visit family and hang out for the summer. If you can travel to a place where you have friends or family and can crash for a couple nights..this will save you money.
Hotel from Trivago
The last day we were there we decided to get a hotel and enjoy some pool time so we found one on Trivago. A site that helps you find the best deal on hotels. It seemed to work. We got a good one in Nanaimo for $112 including tax.
Agenda while in Vancouver…
Day 1: Whale watching & Storybrook (the location of "Once" tv series)
We used Vancouver Whale Watch. They were located in a town called Stevenston. Totally accessible by bus. We saw a few whales which was amazing. They guarantee you'll see whales otherwise you can come back. The town, Stevenston, is where the television show Once was filmed and in the show, it's called Storybrook. Kind of a cool and interesting tidbit.
The tour lasted about 5 hours. It's a long boat ride out and back, but well worth it. I highly recommend wearing pants and runner or hiking shoes. I wore flipflops and kinda regretted it. The tour company provided sweaters, hats outerwear. It was a beautiful day but it's a little cooler out on the ocean.
The town of Stevenston has a few nice boutique style shops which we checked out after the tour.
Day 2: Tandem bike riding through Stanely Park, shopping in the city
Right at the entrance of Stanley Park you can rent bikes from Spokes – singles & tandems (as well as kids sized bikes). We rented a tandem and had it for just over an hour. We rode around the path that circles the park.
After, we walked up Robson street, had Mediterranean crepes and did a little window shopping.
Day 3: Whistler day trip
This was the day we visited Whistler with Moose Tours. If you sign your kid (under 16) up for a HI – (Hostels International) membership, which is free, you'll get 10% off
We were sure to get the front seat of the bus so we had the best view from both sides. On the way up it's a beautiful view of mountains on your right and ocean on your left.
Once we got to Whistler, we walked through the village, did a little shopping, took 2 lifts to the top (or near the top). The top 1/3 of the mountain was covered with snow and people were skiing and snowboarding. Crazy!!!
Day 4: Travel to Hornby Island
This day was spent mostly traveling. We picked up the rental, drove to the ferry, rode the ferry, drove past Nanaimo to Fanny Bay to catch 2 ferries over to Denman Island then to Hornby Island. It was a long day but a beautiful view the whole way.
Agenda while on Vancouver Island…
Day 5: Spend time with friends on Hornby island, visiting beaches, pottery artist, local market
OMG!! I love this island so much I'm seriously considering retiring there for summers in Canada.  It's so quaint and beautiful. Cell service is a little lacking and flushable toilets are hard to find but if you can handle that, you're good.
We ended up staying in a "treehouse-like" house which was so eclectic. It had a bridge connecting it from the parking area to the house, 1o or so chickens in the yard which produced fresh eggs each morning, beautiful lush gardens, tall trees that the owners had created rope swings on, a beautiful kitchen table cut from a very old tree (see pics below) and so much more. I fell in love soon as I stepped foot on that bridge and walked towards the house.
Day 6: Beach on Hornby Island
We went to the beach on Hornby Island. The tide made the sand a little wet but the beach was beautiful with lots of sandstone, driftwood, pathways to the road and a soft sandy beach front – great for kids to play and water sports.
I can't tell you how beautiful this island is…you'll just have to put it on your bucket list and see it for yourself.
Day 7: Drove to Tofino
Today we drove up to Tofino. It took about 4 hours. A little longer than I expected but it was worth the drive. It's not even the town that so great…it's Long Beach – fabulous spot to spend the day.
Day 8: Head home 🙁
Summary of Costs
Travel
Flights (2 seats, return) – $640 – FREE (with rewards points)
Hamilton airport parking (8 nights) – $95
Baggage (return) 1 case $56 – FREE (with reward points)
Car rental (4 days) – $322 FREE (with rewards points) ** use Autoslash.com for the best rates
Bus passes (3 days) $51
Ferries – $230
Accommodation
Airbnb (4 nights) – $205 – FREE (with rewards points)
Friends (3 nights) – FREE
Hotel found on Trivago – $112 FREE (with reward points)
Tours
Whale Watching – $210 ($130 adults, $80 kids)
Moose Tours Day Trip to Whistler – $138  ($69/per person) – FREE (with reward points)
Total Cost without points: $2,059
Total Cost with points: $586
SAVINGS OF $1,473
Not bad for a trip for 2 to Vancouver for 8 days!!
The only other cost we had was food which was about 50% from the grocery store and 50% eating out at restaurants.
Other Notes / Points Of Interest
Boat taxis – You can take a boat taxi from Granville Island back to the mainland..makes for a fun and more interesting ride home. Cost approx $5 per person.
Granville Market – an awesome market area with lots of great shops and farmer's style market. My little souvenir that we bought ourselves was the hammock swings (as seen in the picture above hanging in the kitchen).
Cathedral Grove – If you decide to drive to Tofino (it's completely worth it simply for the drive) you'll pass by Cathedral Grove. A little spot with some of the biggest damn trees you'll ever see. Felt like I was on another planet.
How To Save On Your Trip To Vancouver
Try to use a rewards points program that allows you to use Airbnb and a variety of travel options, not just flights and hotels
Search Google for discounts on things before you go
Plan to have some of your meals from the grocery store or Walmart. If you head to one of the smaller islands, bring some food with you, it's definitely more pricey at the local grocery stores/co-ops
Try to piggy back a trip with others to lower costs or visit places where friends/family live and maybe they'll let you crash on their floor for a couple nights
Take local transit
Get hotel or Airbnb a little out of town
Now it's your turn…
Have you ever been to Vancouver, the islands on the coast, Whistler, Tofino or anywhere else in British Colombia? What travel gems did you come across? How did you save money while traveling?